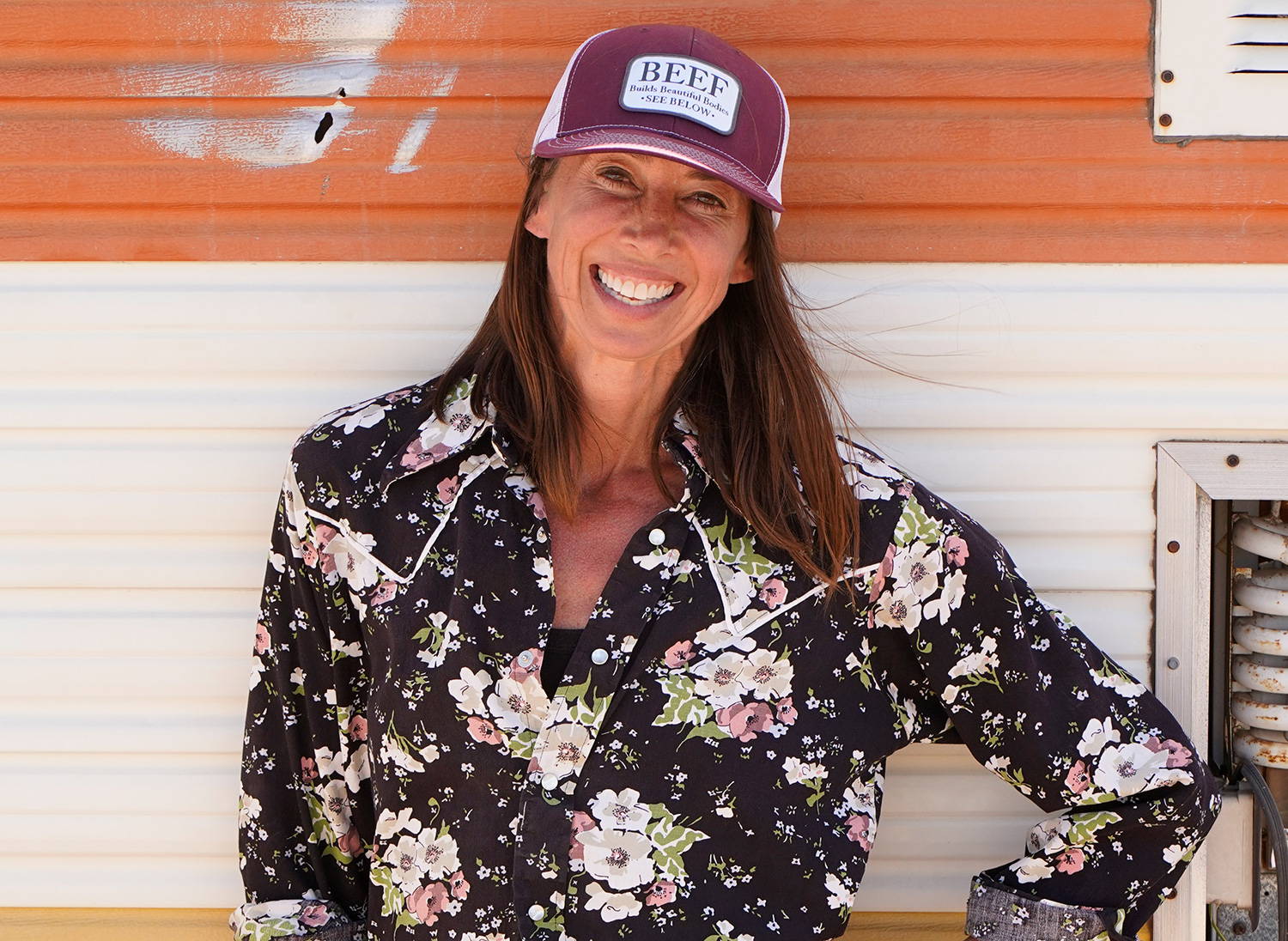 With a background in financial software consulting and an MBA from Oxford, meat processing wasn't even on her radar until she made Marfa her home base and started to dig into why she couldn't get a local steak. This lingering question and a meeting with a gentleman cowboy set Christy Miller on a very different career path. She met Ellery Aufdengarten, a local rancher whose generosity and curiosity were unmatched. Proud of his way of life and dedicated to raising quality beef cattle, Ellery inspired Christy to ditch software consulting and bring his goal to life. She is now on a mission to reconnect people with the source of their food and get Far West Texas meat onto dinner plates across the nation.
Art, science, compassion and determination have all collided to shape Nicole into the perfect production manager for Marfa Meats. Nicole is a painter, so it's no surprise that she's drawn to the artistry inherent in whole-animal butchery. That sense along with her scientific and measured approach honed in her nursing program helps Nicole create well organized teams and work spaces. Nicole has the kind of grit you'd expect of a woman who started out as a butcher shop clean-up kid and ended up running the shop. Her butchery expertise and her calm methodical approach to problem solving is a critical link in the chain between Marfa Meats, producers and consumers in Far West Texas.
A west Texas native Reine was born and raised in El Paso. She found her way to Alpine to pursue a degree in Animal Health Management at Sul Ross University. While pursuing her Bachelor's degree she was introduced to meat processing via the Sul Ross Meat Lab. She quickly fell in love with the rugged small town and decided to stick around for a Masters of Biology. From a ranching family with over one hundred years of history raising Scottish Highland cattle Reine is passionate about ethical butchery and bringing quality meat to this community. Her scientific knowledge, compassion and deep understanding of this environment and the animals makes Reine a perfect fit for Marfa Meats.
Gus is the man behind our beloved burger. He trims like a master and isn't so bad on the bandsaw either. Born and raised in Marfa, he's a die-hard Cowboys fan. He put in some time at Lone Star Beef, a huge processing plant, but is happy to have settled into a smaller shop. He loves brisket, pork chops, and barbecue - and we love him.
Years ago Juan worked his way up from meat wrapper to butcher at Porters, our local grocery chain. His former experience as a sports trainer lends itself well to the heavy lifting that comes with the break down of carcasses, which he's now mastering. He loves the Danforth Beef Butchering book, his fast purple car, his family, and being part of bringing meat processing back to this community in Far West Texas that he calls home.
Israel Natera was a high school kid bagging groceries at the Safeway when he first started hanging around the grocery chain's butcher shop. He eventually wore the butchers down and they began to let him cut meat; he moved to a full-time position in the butcher shop upon graduation. He also worked at a huge packer, IBP for almost six years, first working on the fab floor and then moving to quality control. He worked at several other meat departments over the years. He loves being part of the "chain gang" that runs the chains the Sul Ross State University football games. A good summary of Israel is hunt, fish, drink beer, cut meat, repeat.  
Abel, like his father is a slaughterman, though before starting with Marfa Meats, he'd never done it himself. He put in some time at Seaboard Foods in Oklahoma, but boning out pork butts wasn't his scene. He spent some time trucking, which made him well suited to run our meat to our Austin distributor bi-weekly, but he didn't like being away from his wife and 4-year-old, so he found his way to us and we're glad he did. He's got four dogs and is about to buy a pet lamb!
Cheyenne Poenisch is a native Marfan. She's also a vegetarian who knows every cut of beef by heart because she labels and packages them all here at Marfa Meats. She runs a tight ship on the packaging front, which I guess comes from her skill managing a crew of four kids. Cheyenne loves to read and prefers hardbacks to digital, but she'll read anything. She lives next door to Marfa Meats now, but her great grandparents actually used to live in the Marfa Meats house. She keeps us on track with her sweet whip crack!
A very special thank you to the following people!